20 Best Free Granny Square Crochet Patterns
Something about granny squares feels so happy and summery. The colors, textures, and fun designs bring me so much joy!
Granny squares became popular in the 70s generally in a multicolored blanket with a black border. Today, these iconic blankets are a source of endless inspiration.
If you've never crocheted a granny square, check out this tutorial. They are so fun, surprisingly quick, and super cute. I'm sure you will love them!
Here is a curated collection of my favorite free granny square crochet patterns!
Sweet Granny Baby Blanket from TL Yarn Crafts
The Sweet Granny Baby Blanket by Toni Lipsey is possibly the most well designed and beautiful granny square blanket I've seen — which is saying a lot because its an iconic style! I love the look of the tiny squares and the way they are offset at a 45 degree angle with triangles around the border. This blanket pattern could easily be modified for any size, not just a baby blanket!
Granny Square Sweater by Brittany from Ideal Me
This Granny Square Sweater is SO happy. Looking at it makes me smile and I absolutely want one in my closet. The colors that Brittany chose are so beautiful. I could definitely see myself wearing this all summer long!
The G.G. Cardigan by Nadia Fuad
Inspired by the iconic granny square cardigan worn by Gigi Hadid, the GG Cardigan by Nadia Fuad is a high fashion rendition of classic granny square patterns. This cardigan is everything that I would imagine a granny square cardigan should be!
Crochet Pouch Tutorial by Mikaela Bates
This Crochet Pouch Tutorial by Mikaela Bates is so well done. She has put together an amazing step by step guide on how to make a little pouch out of a granny square! This would be a perfect gift or an easy beginner project.
Crochet Boho Tank Top by Breann from Hooked on Homemade Happiness
This Boho Tank Top from Hooked on Homemade Happiness is super high quality and has photo tutorials throughout so it is quite beginner friendly! I want to go to a concert just so I can wear this tank top, the fringe and unique stitchwork is so dreamy and gives me Free People vibes.
Wild Rose Market Bag by Stephanie from All About Ami
The Wild Rose Market Bag from All About Ami is so stylish and timeless. Stephanie did an amazing job with this crochet pattern and tutorial — she has posted plenty of photos, created a video tutorial, and made multiple schematics! I am always so impressed with her work.
Crochet Granny Squares Summer Top from ZNooi Craft Corner
I really like this Crochet Summer Tank Top from ZNooi Craft Corner! I love how the wide straps and how sleeves are seamlessly shaped using partial granny squares. This top reminds me of the Granny Square tank tops you see at Coachella.
The Sunflowers Scarf from Lullaby Lodge
I love the concept of the Sunflowers Scarf by Lullaby Lodge! I haven't seen granny squares connected on the ends to create a scarf before this pattern and am totally obsessed. I especially love the sunflower design of these granny squares and the tassles
Maria Top Crochet Pattern from Originally Lovely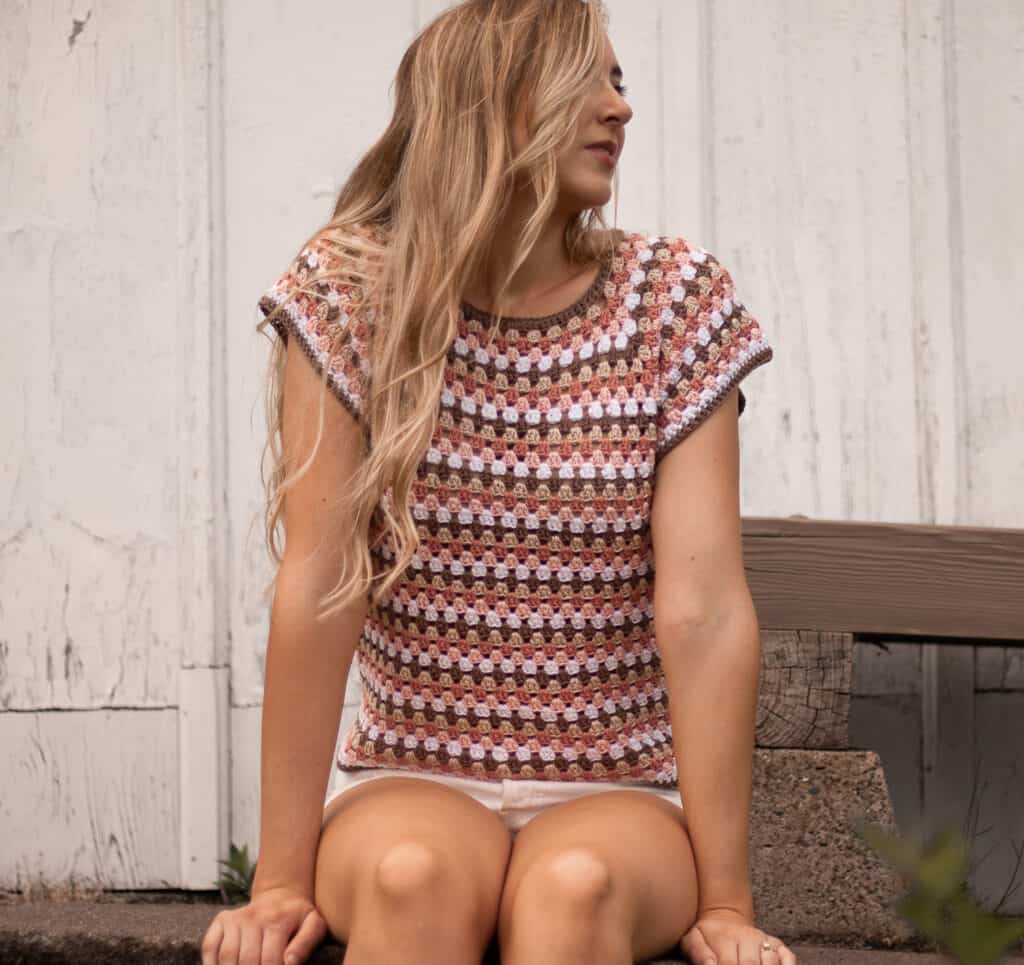 The Maria Top is actually one of my crochet patterns! I wanted to add it to this list because it truly is one of my favorites. Its worked raglan style from the top, down almost like a giant granny square!
Amma Granny Square Top by Maria Valles
The Amma Granny Square Top by Maria Valles is made by basically creating two giant granny squares and connecting them to shape a t-shirt. I think this design is so clever! It would definitely be a great swim coverup or summer layering piece.
Granny Square Crochet Blanket Cardigan from HanJan Crochet
The Granny Square Blanket Cardigan from HanJan Crochet is an amazing, traditional, granny square pattern and tutorial. This blanket cardigan is constructed using traditional granny squares and Hannah does a great job adding extra information and tips throughout!
Bohème Beach by Drops Design
The Bohème Beach pattern by Drop Design is a super simple tank with small granny squares at the bottom. This pattern would be perfect if you love the look of granny squares but don't want a bold, allover design.
Granny Square Slippers from Naztazia
These Granny Square Slippers from Naztazia are so cute and such a fun way to modify the classic crochet slipper pattern! I could see these making a great Christmas gift.
The Kit Cardigan by Kitz Knitz
The Kit Cardigan from Kitz Knitz is beautifully simple and stylish. Using a single color throughout and minimal shaping makes this cardigan look so high end and fashionable. I am absolutely in love!
Throwback Thursday Jacket by Tanya Eberhardt
The Throwback Thursday Jacket makes me smile because I know exactly what Tanya means by this name. This jacket is an updated nod to vintage granny square designs of the past!
CB16 Dress n°02 by Cheval Blanc Official
I am obsessed with the CB16 Dress n°02 by Cheval Blanc Official because it totally makes me think of a Barbie dress. I can see '70s Barbie' or 'Hippie Barbie' wearing a version of this! The model also looks so stylish with her piercing stance, hoop earrings, and purse, I love this whole look.
Triple Granny Triangle Shawl from A Crazy Yarn Life
This Triangle Crochet Shawl is SO cute! I love the colors and tassle detailing. Sometimes I find shawls to be a little boring so this is a great fresh take on a traditional triangle shawl.
The Mabel Blanket by Meghan Ballmer
The black and while color scheme of the Mabel Blanket by Meghan Makes Do looks so modern and stylish! This pattern has a great step by step photo tutorial making it a great choice for beginners.
Bohemian Crochet Vest from Make and Do Crew
The Bohemian Crochet Vest by Jess Coppom is such a stylish long crochet vest with varying textures and stitches. Jess always makes great crochet patterns so definitely check this one out!
Battenberg Blanket by Sandra Paul
The Battenberg Blanket by Sandra Paul reminds me of a vintage quilt! I love the way she used tiny multicolored granny squares and created a checker pattern with white squares. This would be a great blanket to make slowly using leftover scrap yarns from other projects.
---
I hope that you've enjoyed this curated collection of my favorite Granny Square Crochet Patterns!
If there is another granny square crochet pattern you love, share it in the comments below!
With Love, Kaitlin
Looking for more crochet patterns? Check out the Maria Top or the April Sweater!